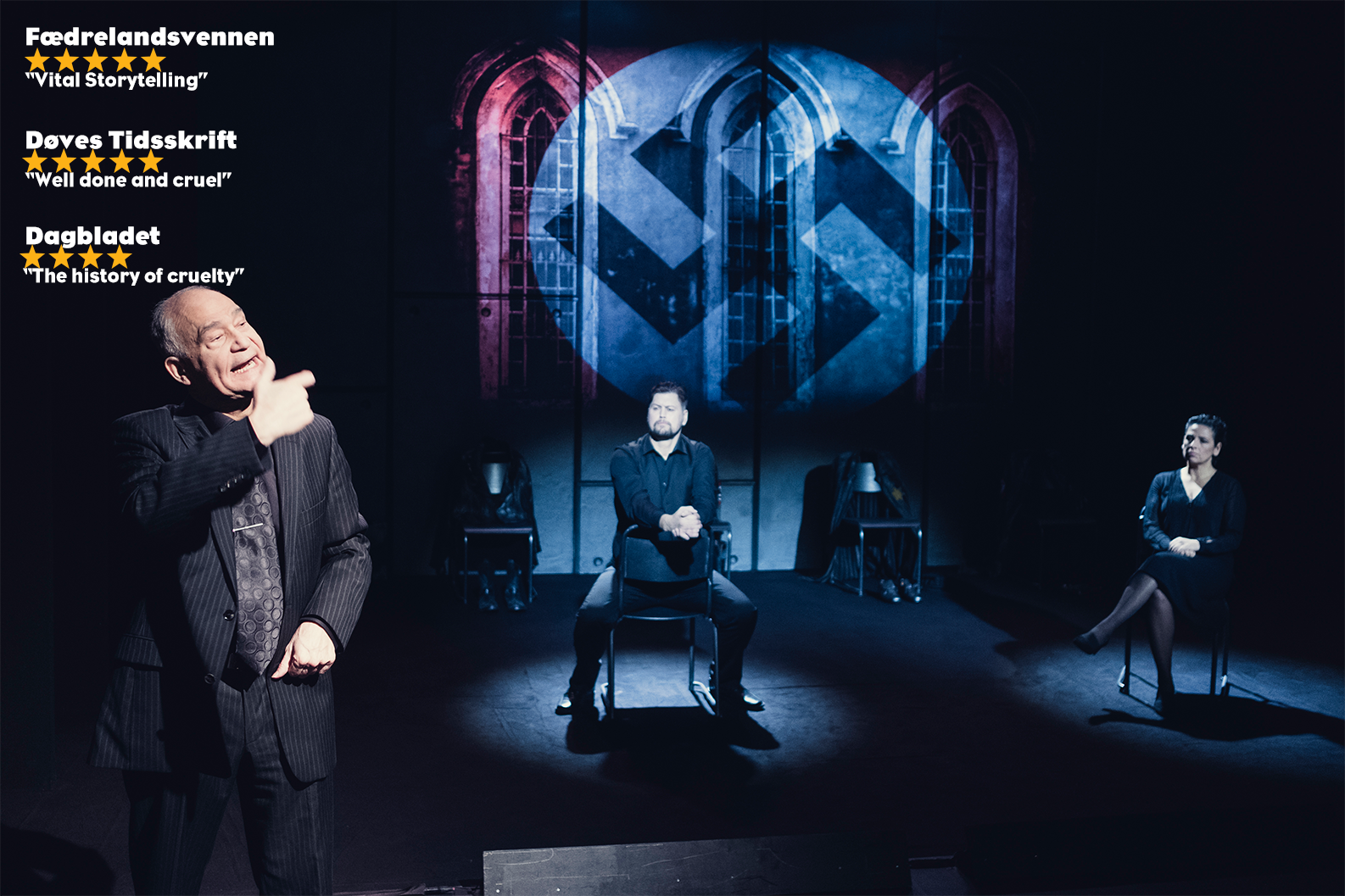 Crying hands
About Deaf People in Hitler's Germany
Script and director: Bentein Baardson
Hva skjedde med døve i Hitlers Tyskland?
Hva skjedde med døve og funksjonshemmede, både i tiden før og under 2. verdenskrig?
Temaet er omfattende og ukjent for de fleste. Teater Manu har gjennom årene opparbeidet seg et omfattende arkiv av dokumentarisk materiale, og har gjennomført intervjuer med overlevende fra Holocaust. Teater Manu har også hentet inspirasjon fra Holocaustmuseene i Jerusalem, Oslo og Berlin.
Det perfekte menneske
Denne historien er viktig for forståelsen av ideen om «det rene og perfekte lytefrie menneske» – som var en del av nazismens ideologi.
Hvordan startet det? Det er mange spørsmål. Svarene er ikke enkle. Det viktigste er at vi prøver å forstå – og at vi spør oss:
Kan det skje igjen?
Teaterforestillingen Gråtende hender
De grusomme overgrepene lar seg ikke beskrive i en tradisjonell teaterform, til det er virkeligheten for grusom og grotesk.
Gråtende hender er derfor ingen vanlig teaterforestilling, ingen oppdiktet historie. Vi skal fortelle om noe som virkelig har skjedd, og i denne historien overgår virkeligheten enhver fantasi.
Doku-dramaet Gråtende hender
Forestillingen blir å regne som et «doku-drama», ledsaget av projeksjoner og en forteller som supplerer skuespillerne med faktaopplysninger. Og de to skuespillerne bærer frem historier på vegne av mange enkeltskjebner, alt flettet sammen til en fortelling.
Unknown chapter
The fates of the deaf in Nazi Germany has been a neglected topic in the story of the Holocaust. It is only recently that this almost unknown chapter of history has been the subject of documentation and research. This material has provided the source for my dramatization, not least the contributions by Donna F. Ryan and John S. Schuchman, together with personal interviews of ten deaf survivors of the Nazi atrocities.
Practical information
Rated: Adults and youths, 13 years and older.
Language: ASL (American Sign Language)
Voice actor: As we use voice actors, all Teater Manu productions are also accessible for hearing patrons.
Running time: 1 Hour and 30 minutes. No break.
Crying Hands is produced in collaboration with The Corcoran School of Arts and Design, Theatre & Dance Program of George Washington University in Washington, DC
Grateful acknowledgment is made to Crying Hands: Eugenics and Deaf People in Nazi Germany by Horst Biesold, published in English by Gallaudet University Press, Washington, DC.